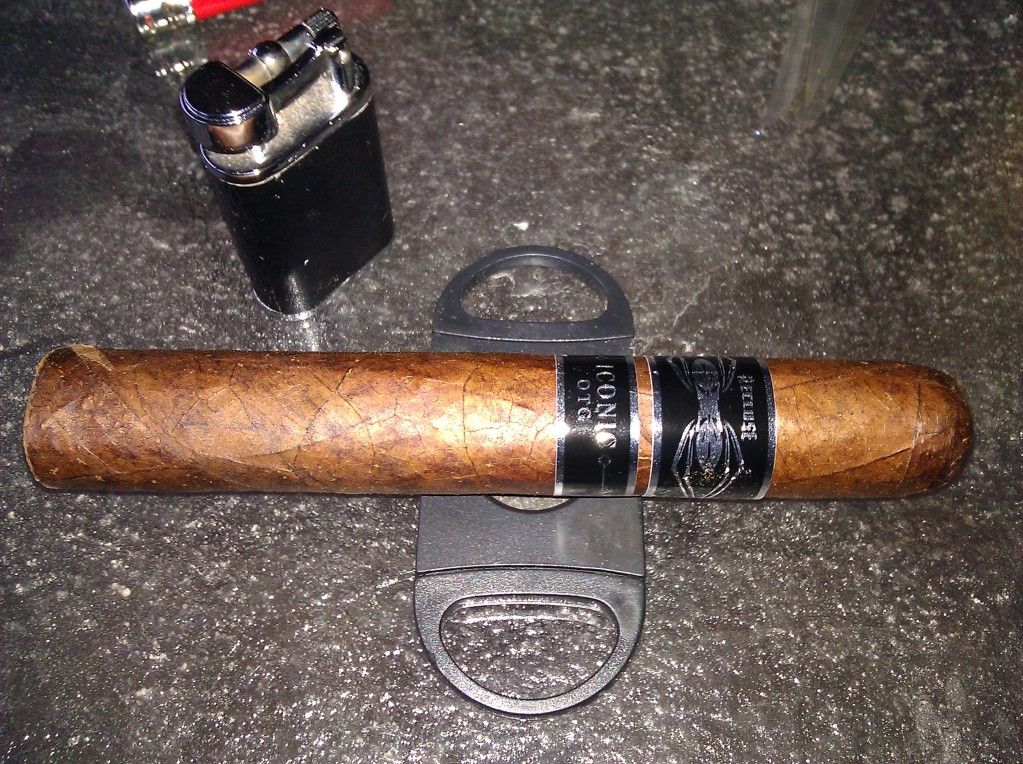 Cigar:
Iconic Leaf Recluse Tarantula ( 6" x 60 )
I received this cigar from bazookajoe8 in his IPCPR 2012 contest. Thanks Joe.
This cigar has a Brazilian maduro wrapper, Cameroon binder, and Dominican filler. One interesting note is that this seems to be rolled with the entubar method. I wasn't able to find much information about the pricing on these cigars but it seems to be around the $8 range.
Since receiving this cigar about two weeks ago, it has sat in my cooler at about 62% RH.
Initial Impression and Light:
This cigar had a great dark brown, slightly toothy wrapper with an oily finish. The seams were excellent except for one small flap folded back on itself near the foot. The cap was applied very nicely. The pack was pretty dense giving a pretty firm, but slightly spongy feel. No noticeable soft spots. The smell near the foot was a pretty strong cat pee smell. I punch cut the cap which gave a near perfect draw. I got some slight herb flavors pre-light. I toasted and lit the cigar with a soft flame lighter.
The Smoke:
This cigar started off medium bodied with flavors of very nice earth and herbs with a mild amount of red pepper underneath. Not very complex but some great flavors. I did read another review and saw what I categorize as herb characterized as orange peel and caramel. I can see them being pretty similar.
The second third continued the same as the first third getting a little stronger towards the end and picking up coffee flavors and some nuttiness.
The final third picked up in strength turning to strong smooth coffee with almonds and floral flavors also pretty strong.
The Burn:
Let me preface this by saying I usually have major issues keeping 60 RG cigars burning straight. This one was actually better than most, straying but not needing any touch ups until after the ash fell. So just one touch up. The ash held on for about three inches the first time and two inches before it fell a second time as a dense white chunk. The total burn time with just under an inch left was about an hour and a half.
Final Thoughts
:
I really enjoyed this cigar. I thought the flavors were pretty unique, something I haven't had before. The MSRP looks like it will be a little high for me, but we'll have to see when actual pricing is released. I'll definitely try this one again but probably in one of the smaller RG vitolas. Seeing as how this will be released in 10 different vitolas, that gives a lot of options.
Below is the burn progression